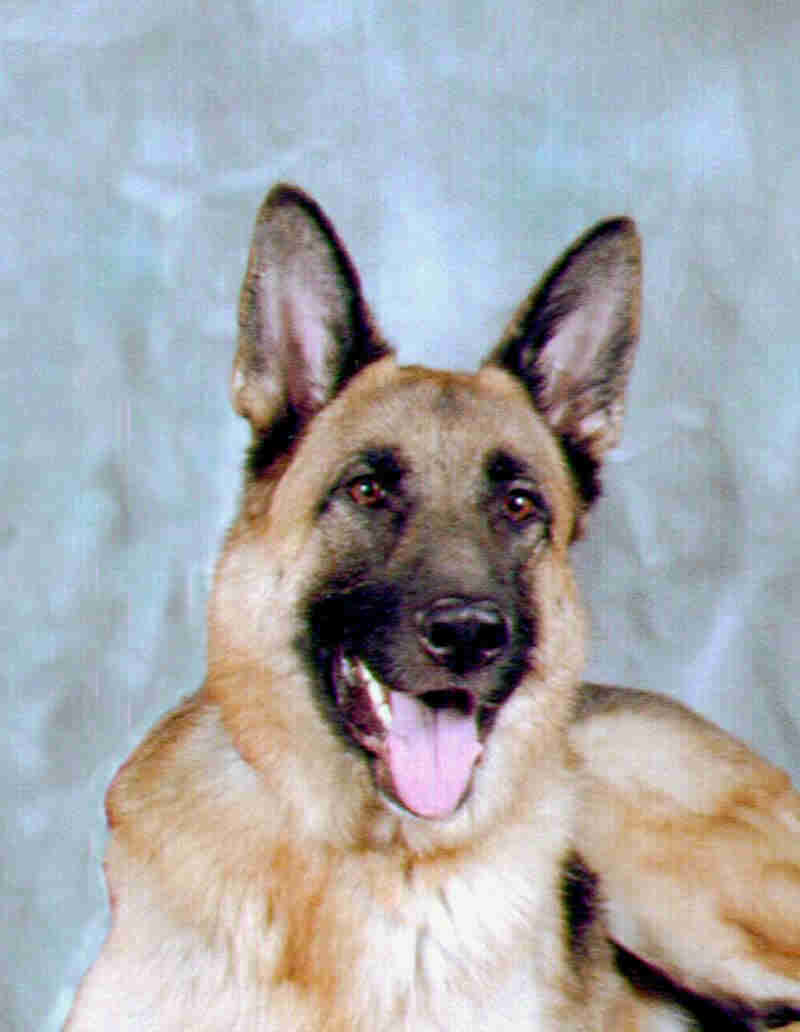 Hi, y'all.  I'm all growed up now.  And "up" is the word for it.  I'm thirty inches tall at my shoulders!!  It's earned me the nickname of "moose-dog", but really, there's just more of me to love.  I've left the chronology of my early days here, 'cause although we all know that all puppies are cute, I was somethin' special.  Enzi & Aeronca are no longer in my life, but I've let them stay on my page.  Keep on reading to find some of my more recent exploits!!!
---
These are my "birth parents".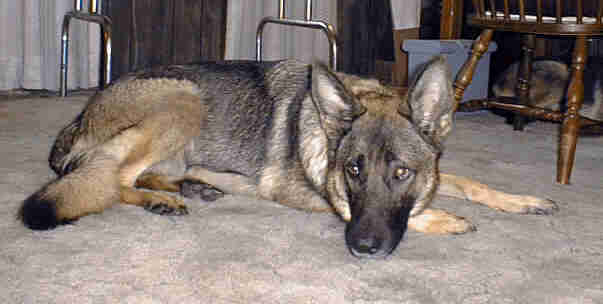 Mom is "Kayla", Cabarets Legacy von Mayberry.  Back then we knew she was a great dog, but she's gone on to prove it.  She has earned U-AGI, CD, JP, CGC, TT, and HIT, and she's a literacy dog,too - they musta run out of letters.  You can see her current litter's page Sildenafil generic for viagra (I think we're getting a puppy - not sure what I think of that).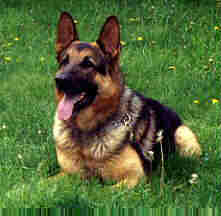 Dad is Orex vom Schwartzen Brink, at Terbinafine hydrochloride cream 30g
This picture is of Dad doing what he does best (tracking) and was taken at the FCI FH Welt Cup 2000 in Germany.  His point total placed him in fourth place!  Way to go, Dad!!
---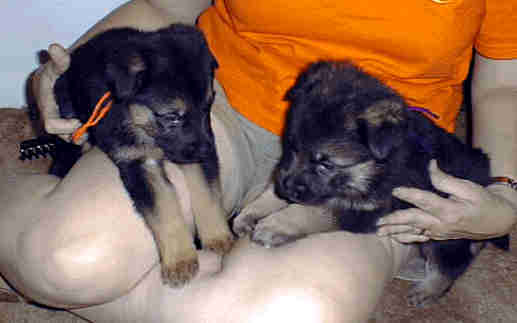 These were Mom's two favorite pups (as of 8/13/99, our one month birthday!!).  Little girl orange or little boy purple, she didn't know who she'd get.   [Found out 9/1 - when purple became Eryk!!]  Little girl orange has gone on to be a seeing eye dog - Mom knew she was something special!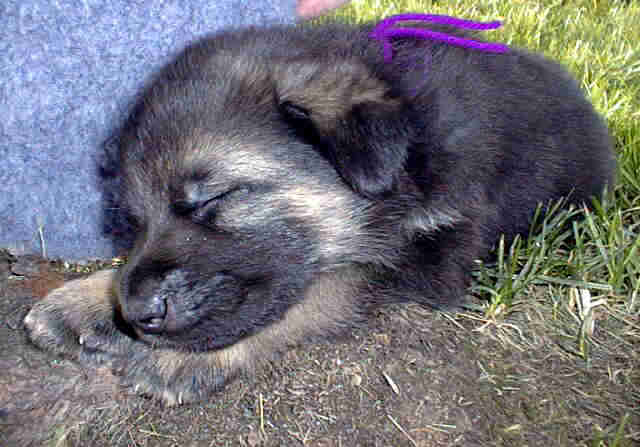 As of  8/14, Tim's campaigning for little boy purple - I am cute.
[9/1 - Tim's pick it is!!]
.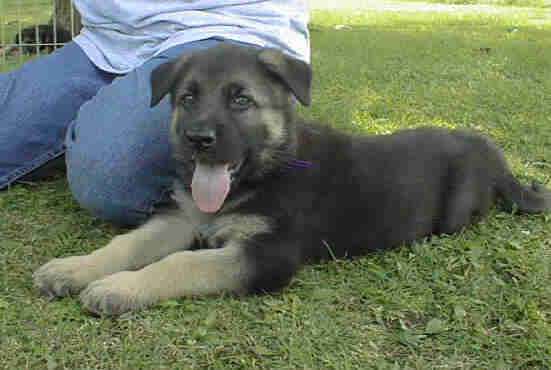 Wow, how ERYK grew in 2 weeks. This picture was taken 8/28.
Hi y'all.  I'm Eryk.  I'm still settling in around here.  I like my people lots.  I don't like being alone, and I really don't like being alone in a crate.  When my people leave me alone, I scream (no I don't cry, that's for sissies, I just scream)- Daddy's not happy about that.   And I can already climb out of my pen - Mom's not happy about that, but I'm already working on the puppy gates in the kitchen, too.  There's not going to be any holding me back!!  My big sister Enzi has decided I'm probably OK, but doesn't understand that I just can't keep up (yet!).  Aeronca's no fun at all.  Mom has high hopes for her handsome little boy.  Dad has visions of an elephant based on the size of my feet.  We'll see.......
---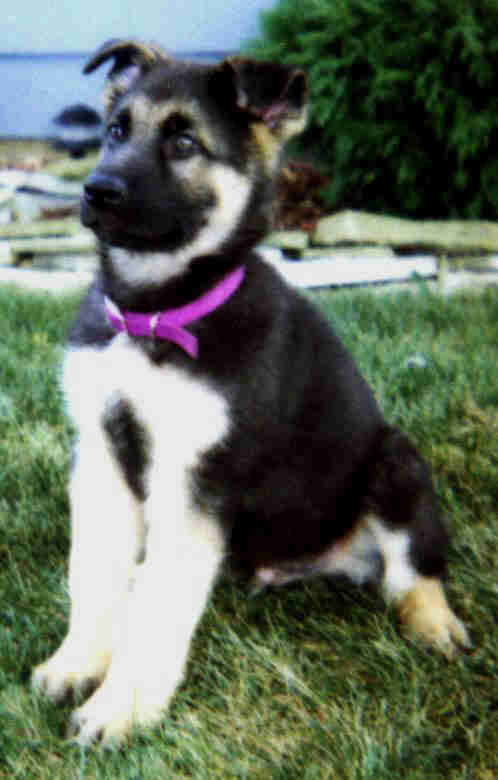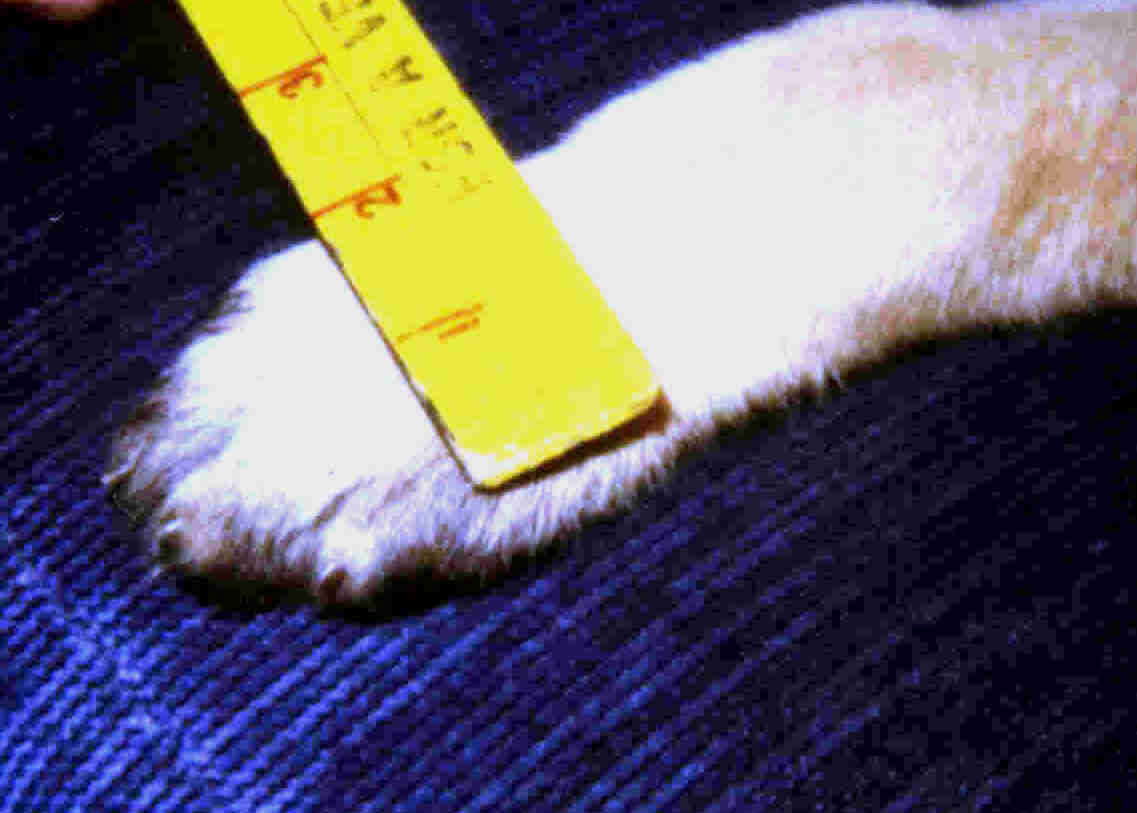 Well, now I'm 2 whole months old.  My feet are almost as big as my three-year-old sisters.  And I am turning into quite the handsome young man.  This isn't the greatest picture of me, but Mom broke her good camera, so I takes what I gets.  I'm starting to figure out to bark at people I don't know coming up to  Mom and me, until she says it's OK.  And I've figured out to ignore those flat doggies at Grandma's house that woofed right back at me when I woofed, and play-bowed when I did, but would never come out and play [ed. note - mirror]. 
---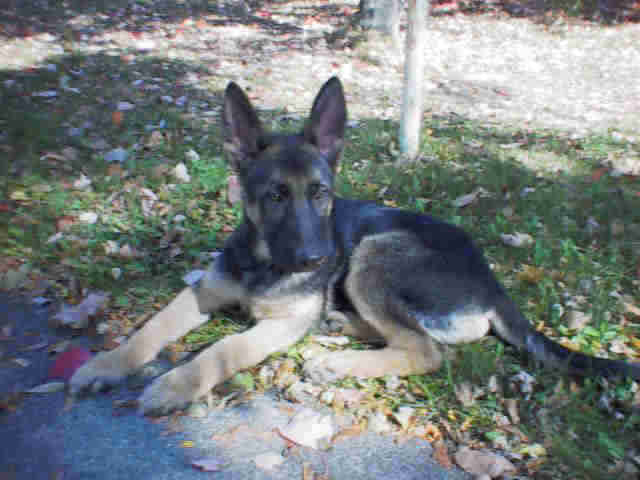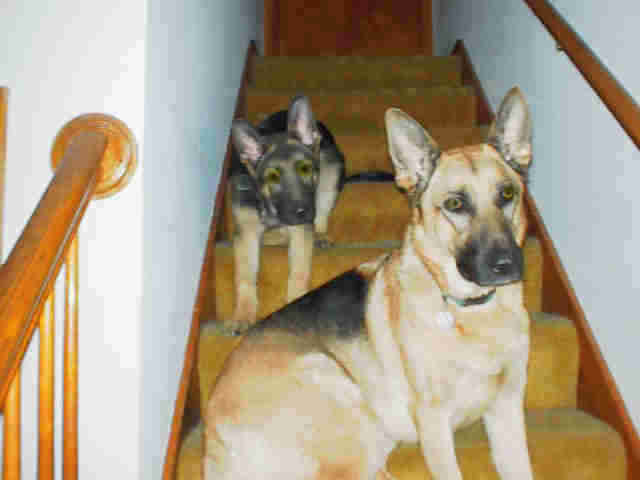 Yeaaaah!! - Mom got a digital camera again!!  Now I'm 3 1/2 months old.  I'm a really good boy.  I like to be with my people, and I'm calmer than they remember their other Shepherd puppies being.  (Boy, have I got them fooled.   Just wait 'til I'm a teenager.)  That's my big sister How much is promethazine codeine syrup cost and me sitting on the stairs.  I used to be afraid of going down the stairs, but that was when I was a baby - now I'm a big boy.
---
Four months old and going strong.  Early on, Mom said there wasn't going to be any holding me back, and I'm proving her right.  I'm a really good boy, and I'm basically pretty calm, but I HATE being restrained.  Enzi and I play lots, sometimes we really get into it.  We think she hurt my jaw.  There's a lump on it that really bothers Mom, but doesn't bother me at all.  The vet's still trying to figure out exactly what it is.  Oh well, here's the new pictures.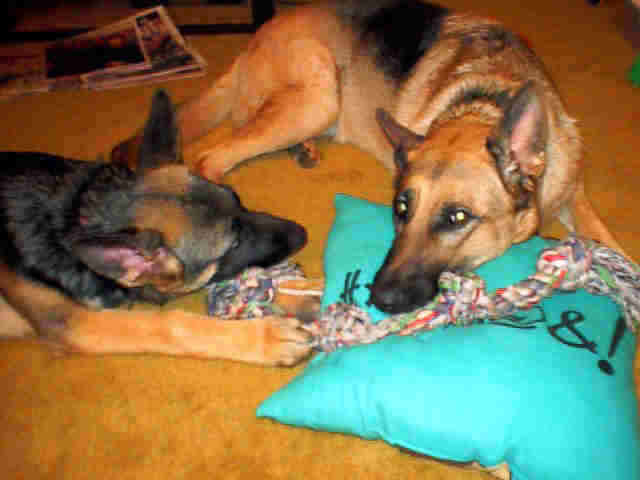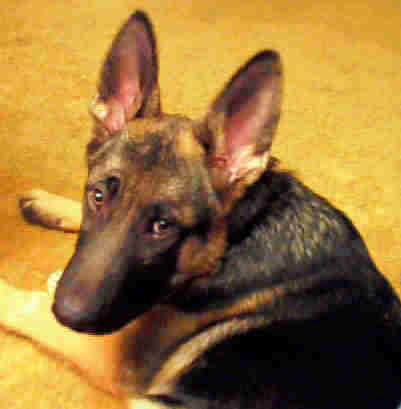 ---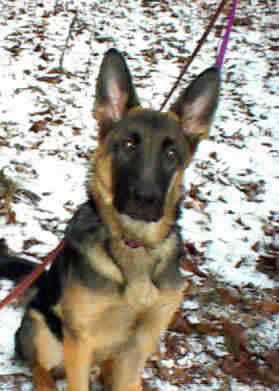 Well, it wasn't Enzi that hurt my jaw.  I grew a bony cyst on it.  Mom kept taking me to Purdue (that's the veterinary school and hospital around here) and letting them do weird things to me, and make me stay in a cage and lots of not fun stuff.  But the students are nice to me, and take me for walks.  Mom and the doctor were using some great big words that I didn't understand, but Mom says it was a classy way to say "cancer".  I'm not sure what that is, but it made Mom real upset, so I'm glad I don't have it.  She says I still have to go to Purdue some more.  But in the meantime, I've gotten to be all of 5 1/2 months old.  Something called "Christmas" happened - I got a couple new toys on the same day!  And the next day, we all went to the state park.  When it gets cold, this white water is on the ground in chunks.  It doesn't lap up very good, but it sticks to my tongue.  Weird...
---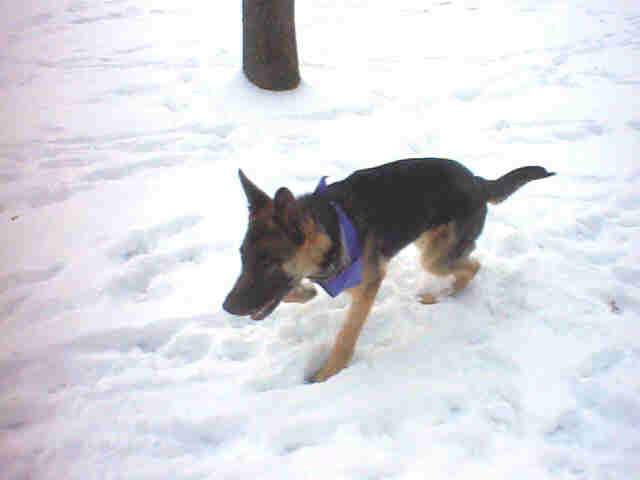 Well, on my 6 month birthday, lots of that white water fell out of the sky.  And then more, and more...  It's not chunky now, it's more like powder, and it sticks to everything: my fur, my feet, even my whiskers.  But it sure is fun to play in.  Enzi and I can wrestle in it, and it doesn't hurt at all when we fall over - we just go "splatt", and Mom starts laughing about "snow puppies".  My toys get lost in it, though.
---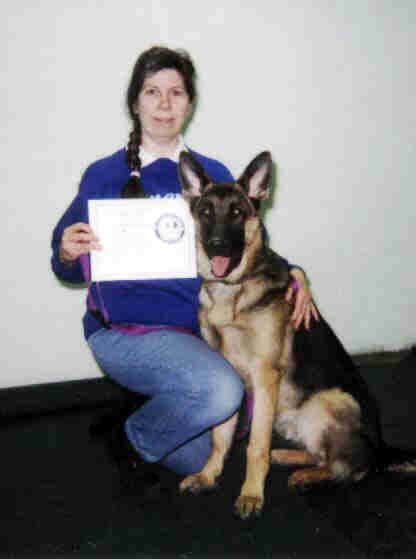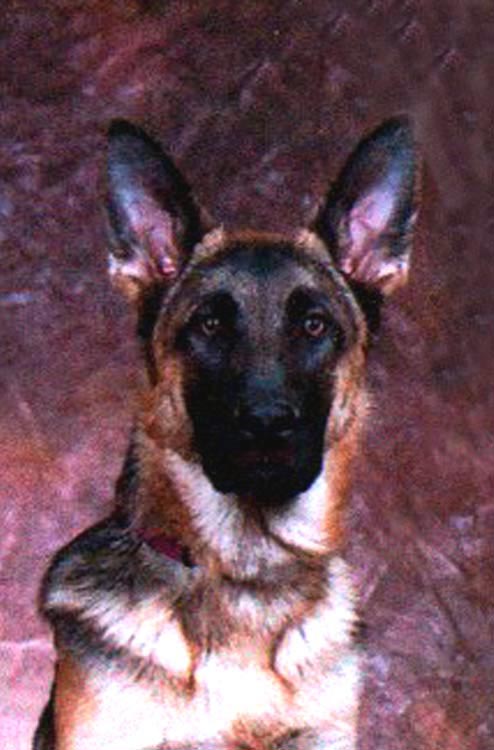 I got this certificate for successfully finishing my basic obedience class - and I'm only 7 1/2 months old!!!  The next week I passed the Canine Good Citizen test and got a really pretty blue ribbon rosette, but Mom won't let me play with it.  Now it's not just my feet that are bigger than Enzi - I'm taller than she is.  No more "little Eryk" in these parts, I'm working on turning into that elephant Dad was talking about.  Mom got this --->  really purple picture of me taken when I was 9 months old, to go with my  ribbon.  It looks OK hanging on the wall, but I still think I should have been able to play with it.
---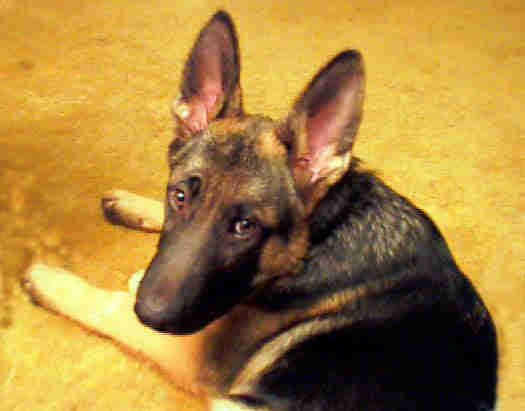 Wow, one year old.  The Purina puppy chow commercial has me "full grown", but my people know better.  I'll still grow for another 6 months to a year, and keep maturing for at least another year after that.  It gets hot here now sometimes, and I've found the best place.  There's usually a mud puddle in the yard!! I can wade through it, and the mud on my legs helps keep me cool for a while.  Then I have to back for more.  I don't know why Mom gets so upset when I come back in the house on those days - she rubs on my legs with a towel, and makes me stay in my pen until I'm all dry. Where that lumpy thing on my jaw was messed with by all those doctors (gee, I'm glad that's over with),  I  "pocket"  food or any other stuff that's in my mouth.  Mom and my own vets think the nerves in that area probably got damaged, so I don't know there's stuff there.  Well, they're wrong!  I can tell there's stuff there by the funny faces humans make at me while saying "yuck".
---
Thus endeth the puppy chronology....  but keep on reading,  I've finally got Mom to start updating  my page again.

(This section under construction)
---
One of the best things about life as a young German Shepherd is playtime, and I've had lots of special times at play.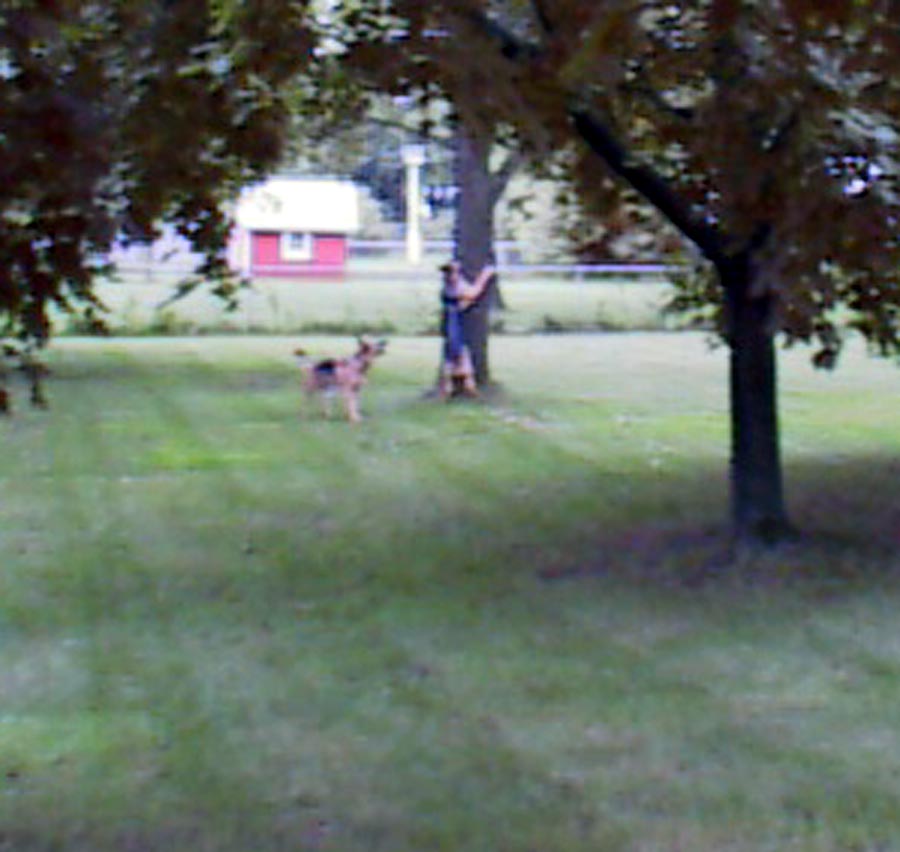 That's me and Enzi after a squirrel - I'm the one trying to climb the tree.  We almost caught one, once.  The tip of it's tail sorta came loose when we grabbed it, and it got away.  But that guy (you could call him "Stubby" - LOL) and all his friends still sit up in our trees and torment us.  They know just how far we can reach.  But one of these days... one of these days...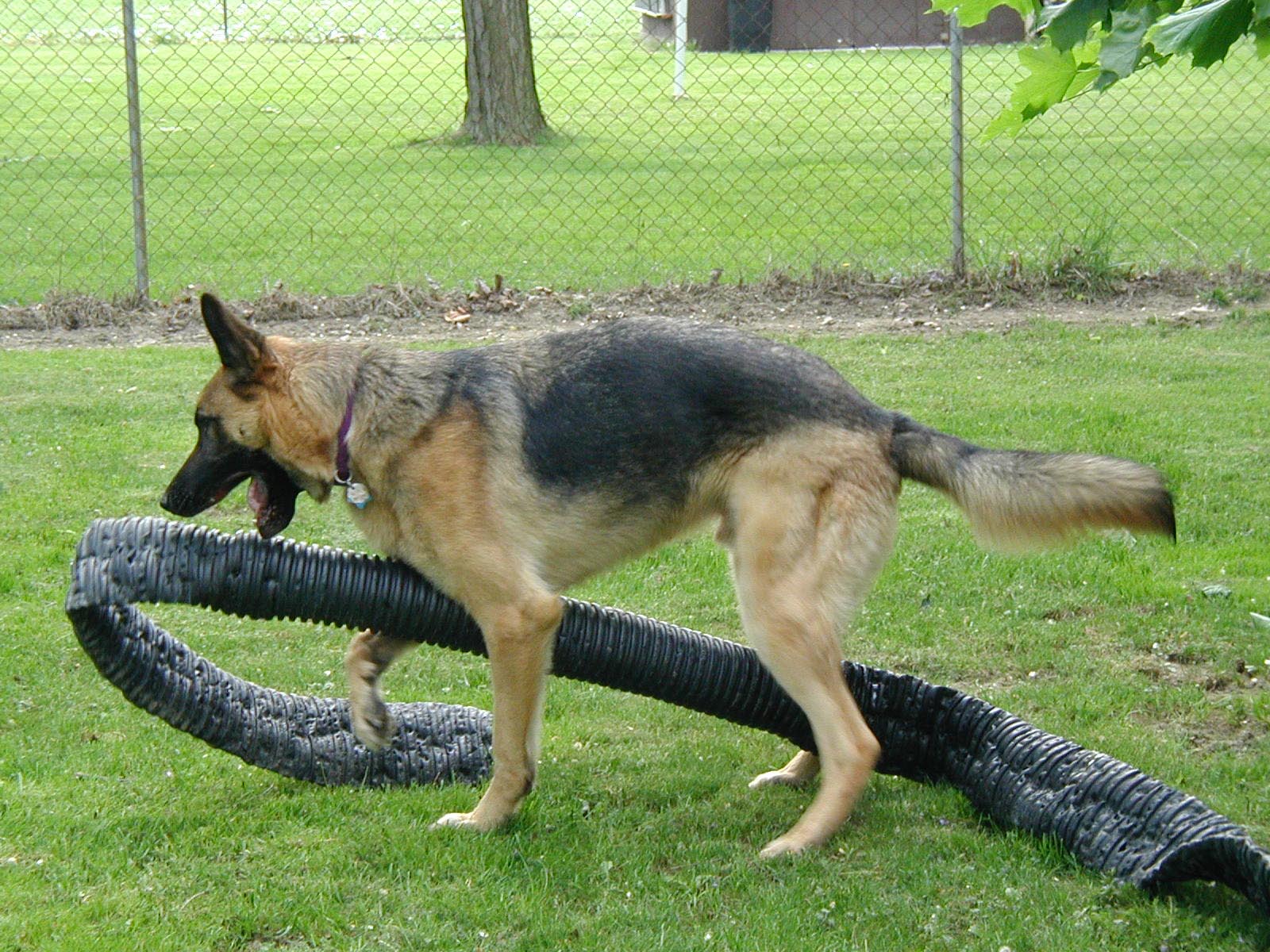 And this ( <--- ) is my friend Morgan and me (Morgan's the petite black and red girl) with *my* favorite toy - it's a 10 foot length of corrugated drain pipe.  The picture was taken November 2000.  After I stole the first one off the house (ooo, was Dad upset that day), they give me a new one to play with whenever I wear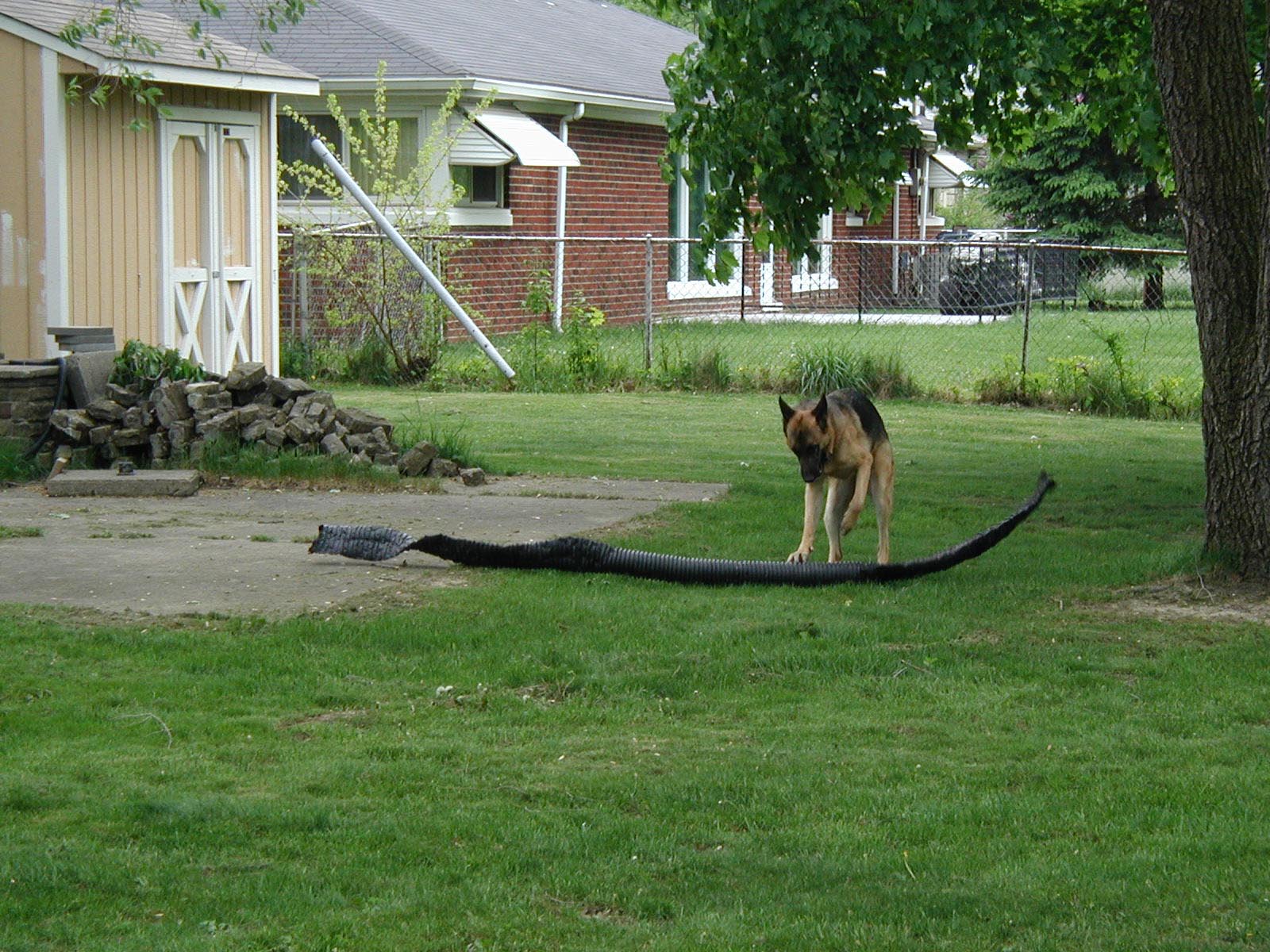 one out.  The pictures of me alone were taken in May 2001.  Gee, I love those pipes!

 

 

 

 




Gabapentin 50 Mg Hinta

86-100

stars based on

805

reviews


Gabapentin actavis 300 mg hinta benzoatcine 1.2 duloxetine 250 mg Atarax online pharmacy uk amitriptyline 5 nortriptyline drugstore 10 discount 2 pindolol 25 mg sertraline 10 trazodone 2.5 venlafaxine 1.5 mg Antidepressant drugs, also commonly used as antidepressant agents, are the basis for drug addiction treatment approach. These include serotonin reuptake inhibitors, selective and norepinephrine inhibitors (SSRIs), tricyclic antidepressants and monoamine oxidase inhibitors (MAOIs). The SSRIs act as partial or full agonists at noradrenergic and serotonergic receptors while the MAOIs act as partial or full antagonists at each of these receptors [20]. Both SSRIs and MAOIs act in gabapentin ratiopharm 300 mg hinta a presynaptic manner and this means that SSRIs MAOIs exert their effects on the presynaptic terminal by stimulating uptake of an agonist, through the process of reuptake, and the