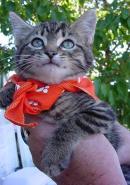 Hello World! I may not have a name yet, but I've found my forever home! My birth-Mom had to fend for herself, until she got taken in by the good folks at Planned Pethood. I got to get born indoors, in a bathtub <g>, and be well cared for from the start. Then my forever people found me. I'm the luckiest kitten around.
---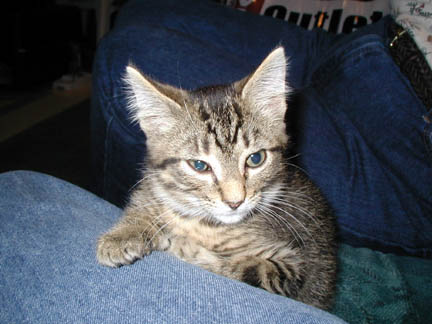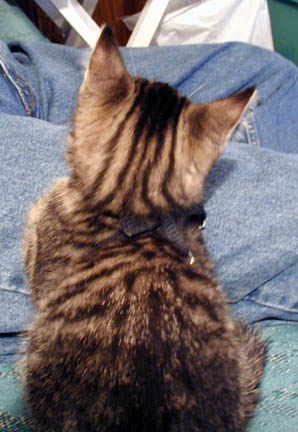 I'd only been with my new people a week, when they took me for a real long ride. I had to be in a carrier, but that wasn't too bad, cause it was big and had food and water, and my litter box, and I'm still real little. They said we were doing something called camping. I don't know about that. Seemed like a long narrow house to me. But my people were there almost all the time!! I liked that. I'm a cuddler. But, bad news here - I've caught a cold <sneeze> so my eye is a little gunky. Mom keeps going on about how neat the stripes on the back of my head look. You can see for yourself.
---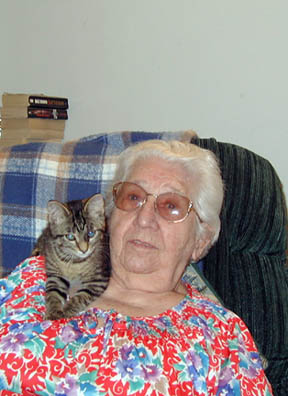 Well, I've been in my forever home about a month, now. That's my human "gramma". If we're going to be home alone for too long, she comes over to let the dogs out, and make sure we're all OK. Of course, we cats are always OK, but sometimes it gets a little lonely with only four-foots around. I'm still a real cuddler - I like to be near peoples faces. And if no humans are in this chair, it's one of my favorite places to lounge.
---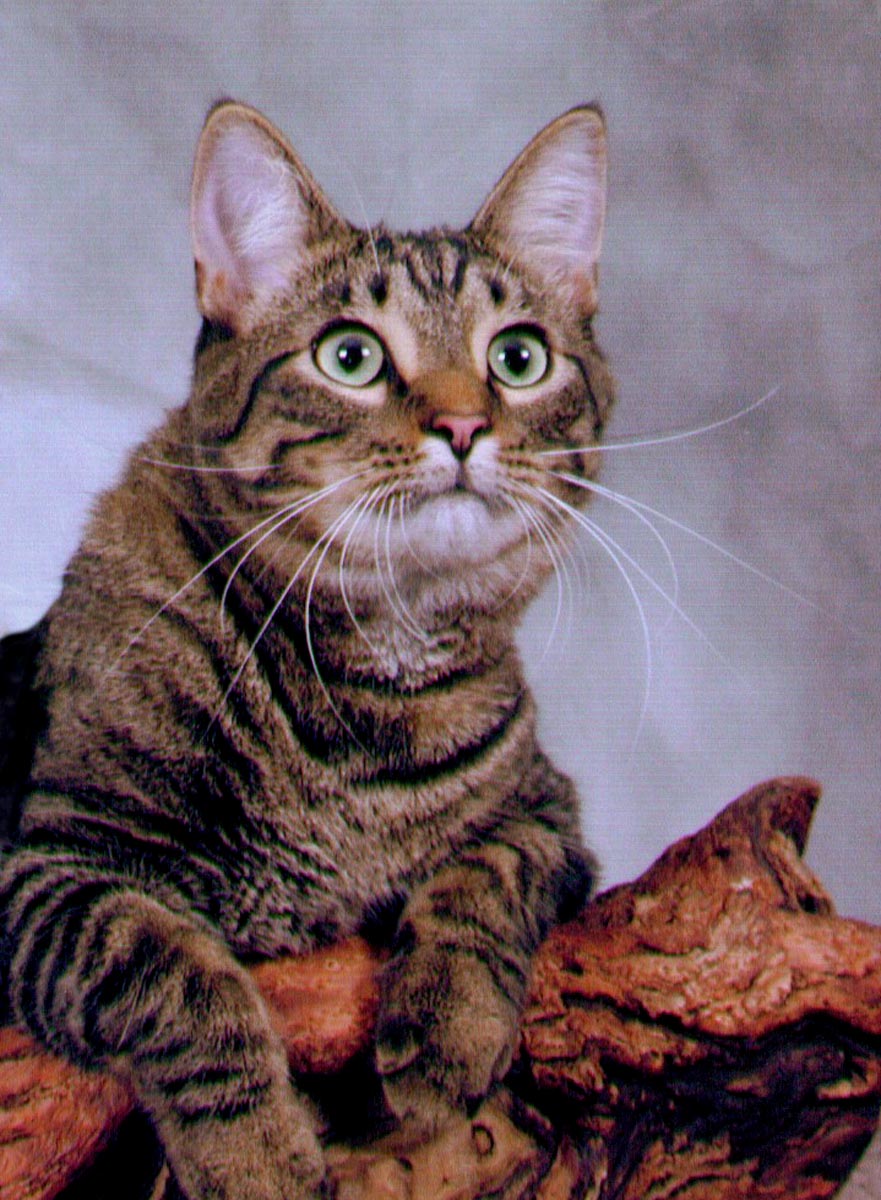 Now that I'm all grown up, I still like to cuddle, as long as no one realizes that's what I'm doing. Us macho guys have to keep up the image. My favorite toy is the feathers on the end of a piece of faux-fur - I growl and really carry on when I catch them. I am absolutely fearless!! Since I've never known a bad human, my world is a very secure place. No one has ever wanted to do me harm (well, there was that one incident with the platter of ham, but we're not going to talk about that) and no one has ever hurt me. I've never gone hungry, and I always have a warm place to sleep. Every kitty should be so lucky. Oh, and Mom still carries on about the stripes on the back of my head <sigh>.
---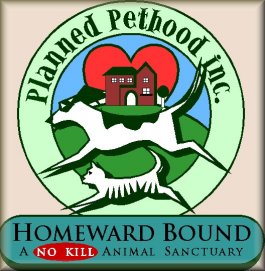 If you're looking for a new friend to share your life with, please consider adopting a homeless animal, rather than buying from a pet store (this promotes mass breeding) or taking in a "free to good home" discarded animal (this promotes irresponsible ownership). In the northwest Ohio region, you could consider Planned Pethood (they're the people that helped by birth-Mom and me). Click on their logo to visit their site.