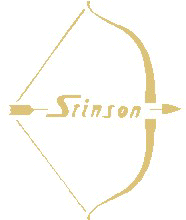 Well I've been looking at the Stinson 108-3 for a long time and dragging JoAnne to see every one that landed at Oshkosh for the last 3 or 4 years. In spite of the problems associated with the type's engine parts situation I still felt that this was the airplane for me. Vintage of course, good looks, useful load, size and comfort, cross country speed and not something every one else has. In other words, "my type of airplane" !
Anyway, I've been looking at Stinsons all along waiting for the right one to come along with my name on it and it finally did. This one just screamed at me and I couldn't resist. My new friend doesn't have the engine issues as it's owner completed an engine conversion using an 0-540 Lycoming with 235 horsepower. The interior has been re-done and it's fully IFR! Vic Steelhammer did a nice job on the Stinson. The only problem for me now is that the plane is in California and I'll have o fly it home!! What a problem to have!! Following are some preliminary pics.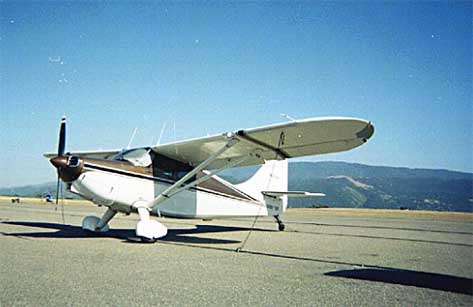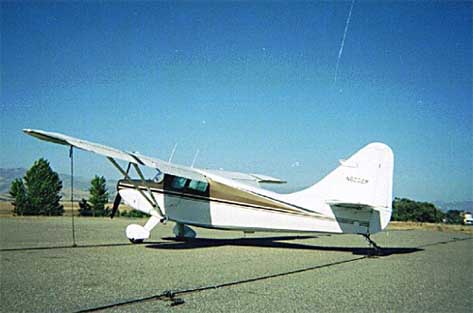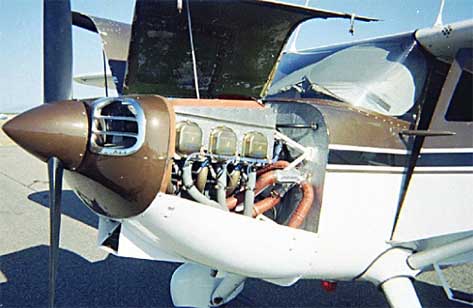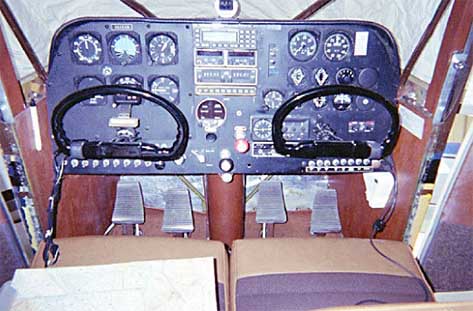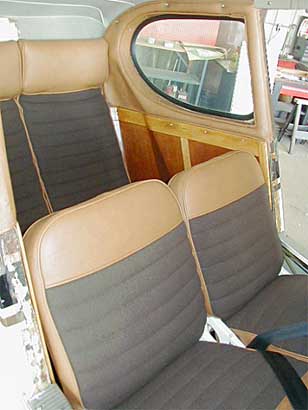 Anyway the great adventure of flying cross country starts Dec 30th! My friend Steve and I will depart from 52M's old home of WHP (Whiteman Airpark) in Southern California headed home to Auburn, Indiana.
As we go along we will be updating this page with our progress and pics. Be sure to stay tuned!!
---
Tim and Steve's adventure with "Mikey" day 1
Well we had a heck of a day! First thing this morning we went to San Val Aviation to pick up a few things for our flight and a case of oil as we wanted to do an oil change before we left. There was a front approaching and we were close on time to get out of the LA basin. After changing the oil, Steve (my co-pilot and ferry pilot) went out to check out so we could leave. It started raining and the ceilings started dropping but we got out late and flew around all the LA airspace to get out to the east. We decided to stay south and headed for the Banning pass between LA and Palm Springs. Then on to Blythe along the CA / AZ border. Landing here about dusk it was dark by the time we fueled and got "mikey" tied down.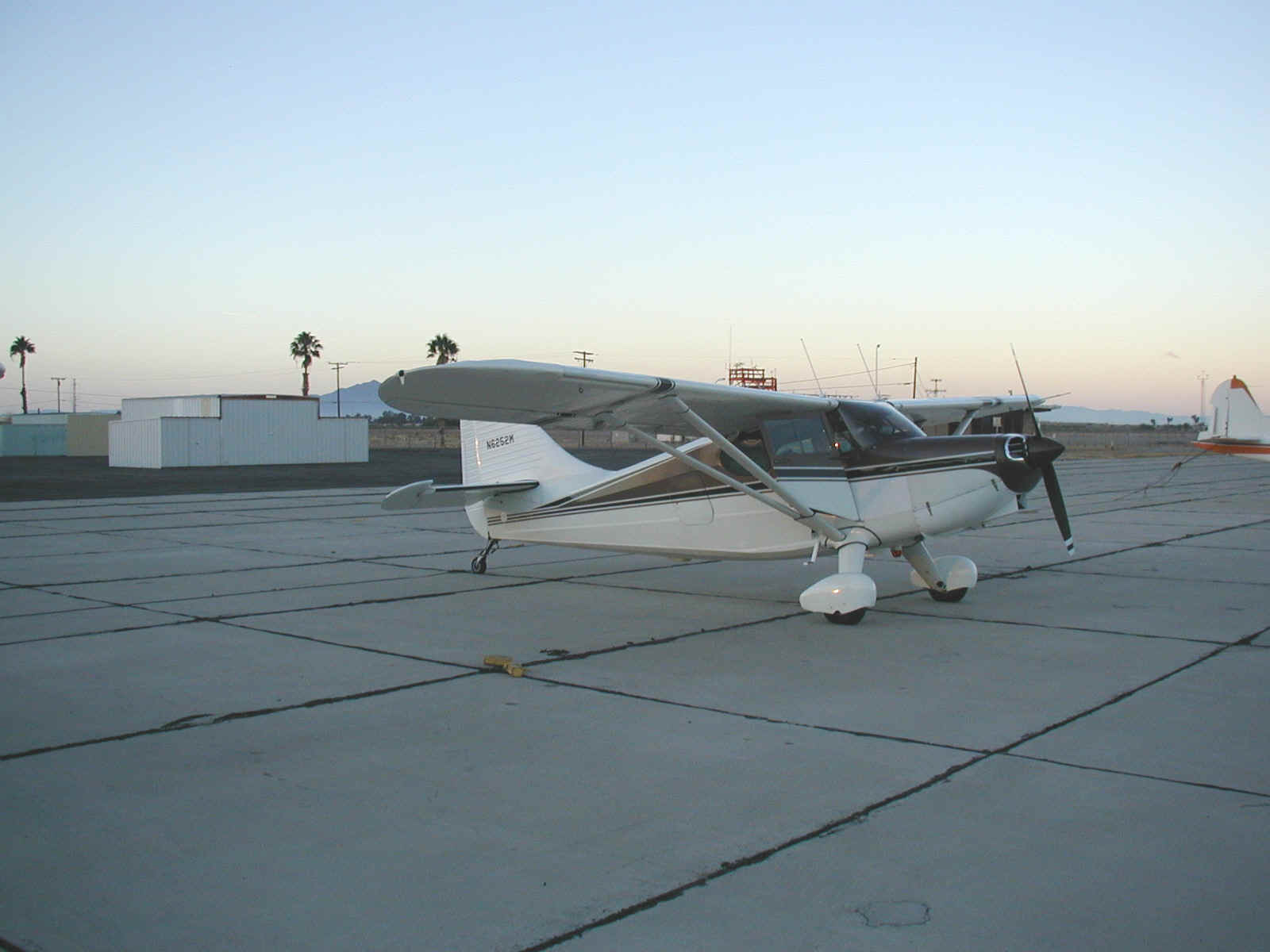 We stayed around 5500 feet and we didn't lean aggressively so our fuel burn was about 12 gph. Boy that 0-540 is smooth and powerful! Need to climb? just a small nudge on the throttle and up you go! We trued out about 140mph and with the tailwind we occasionally hit 160 gs. Not much else to tell other than this aircraft has already exceeded my expectations and is not only beautiful, it flies like a dream. More on our saga as we get along. See Ya!!
---
Day 2 - Well today was a real good day with a lot of miles and beautiful scenery. We left Blythe, CA into a dawning sun east bound trying to stay in front of an oncoming front with the associated storms. Our first leg took us to Safford, AZ and our first fuel stop of the day. The FBO topped us off while Steve talked to the weather briefer and we had our first change of plans for the day.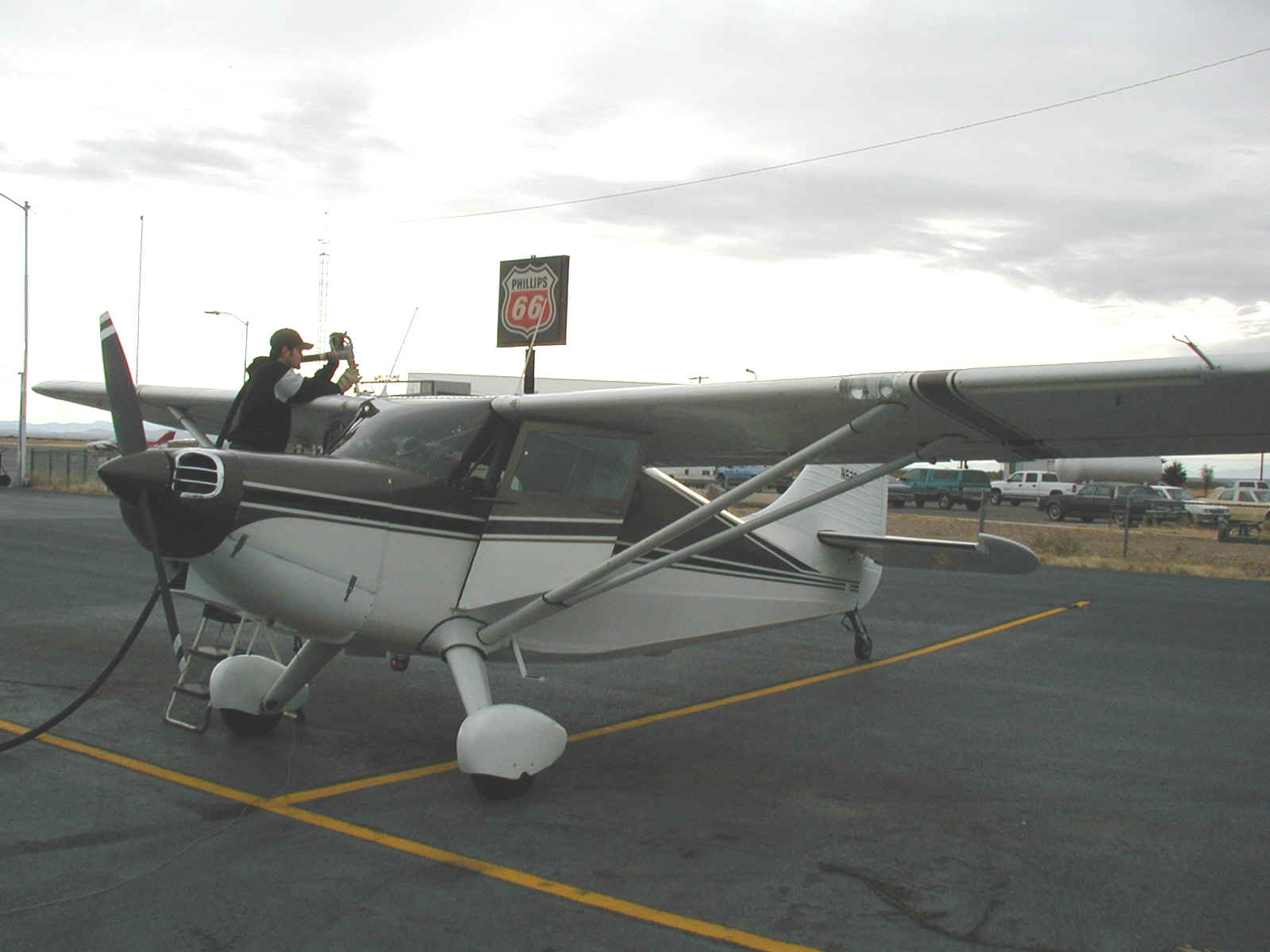 We had hoped to go further north towards Albuquerque but a southerly moving front dropping out of the north caused us to continue in a more southerly direction. We ended up heading towards El Paso and ended up in Mexican airspace for a few minutes. We landed at a small airport just west of El Paso called West Texas. For the second time today we attracted a crowd with the now familiar ooohs and aaahs as "mikey" is one fine old bird. Here you see me not having any fun!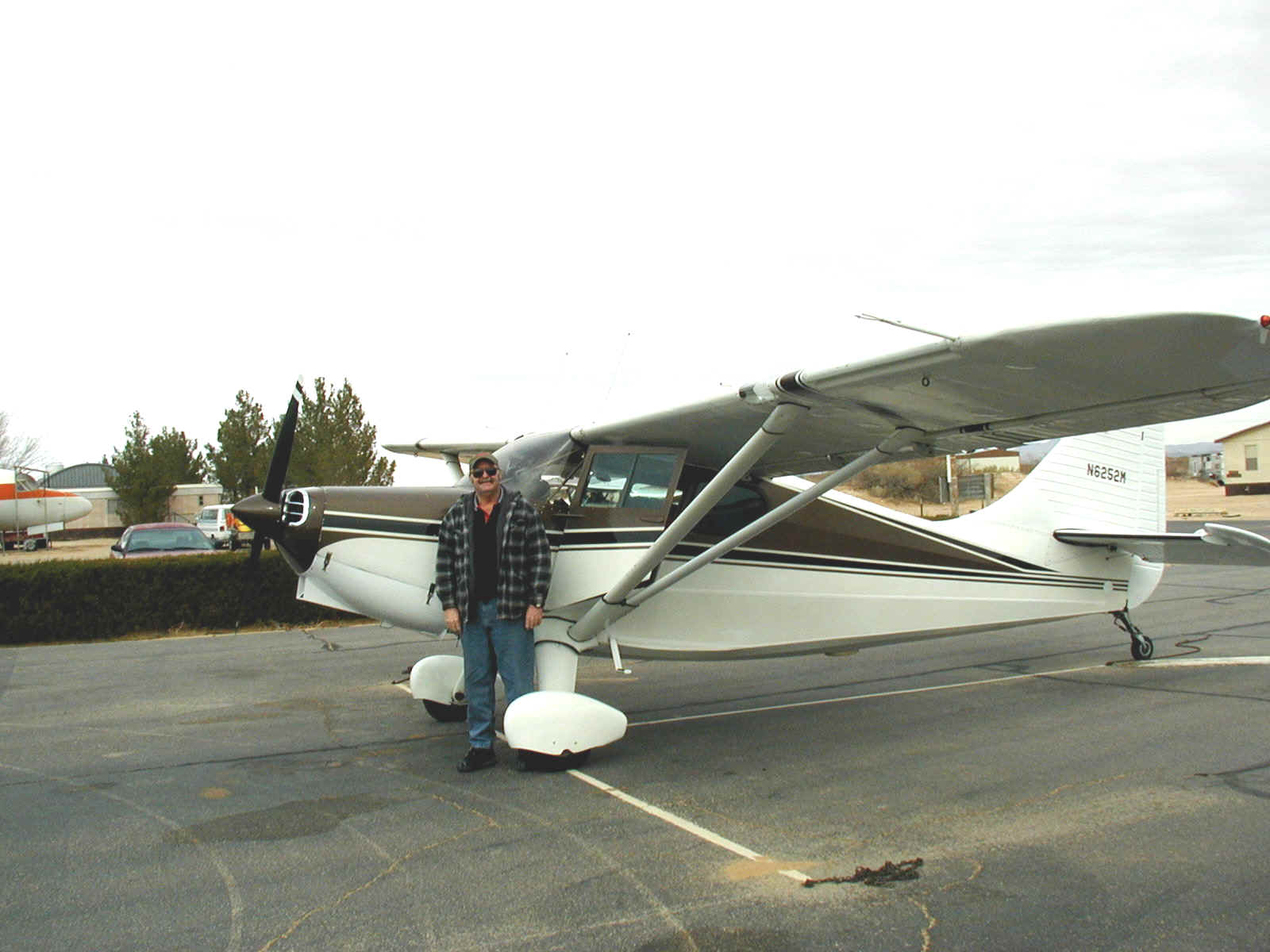 We did a flyby on departure and the crowd was standing out by the runway waving us on. We went on for the longest leg and final stop in Abilene as the front continued south preventing us from heading up towards Oklahoma.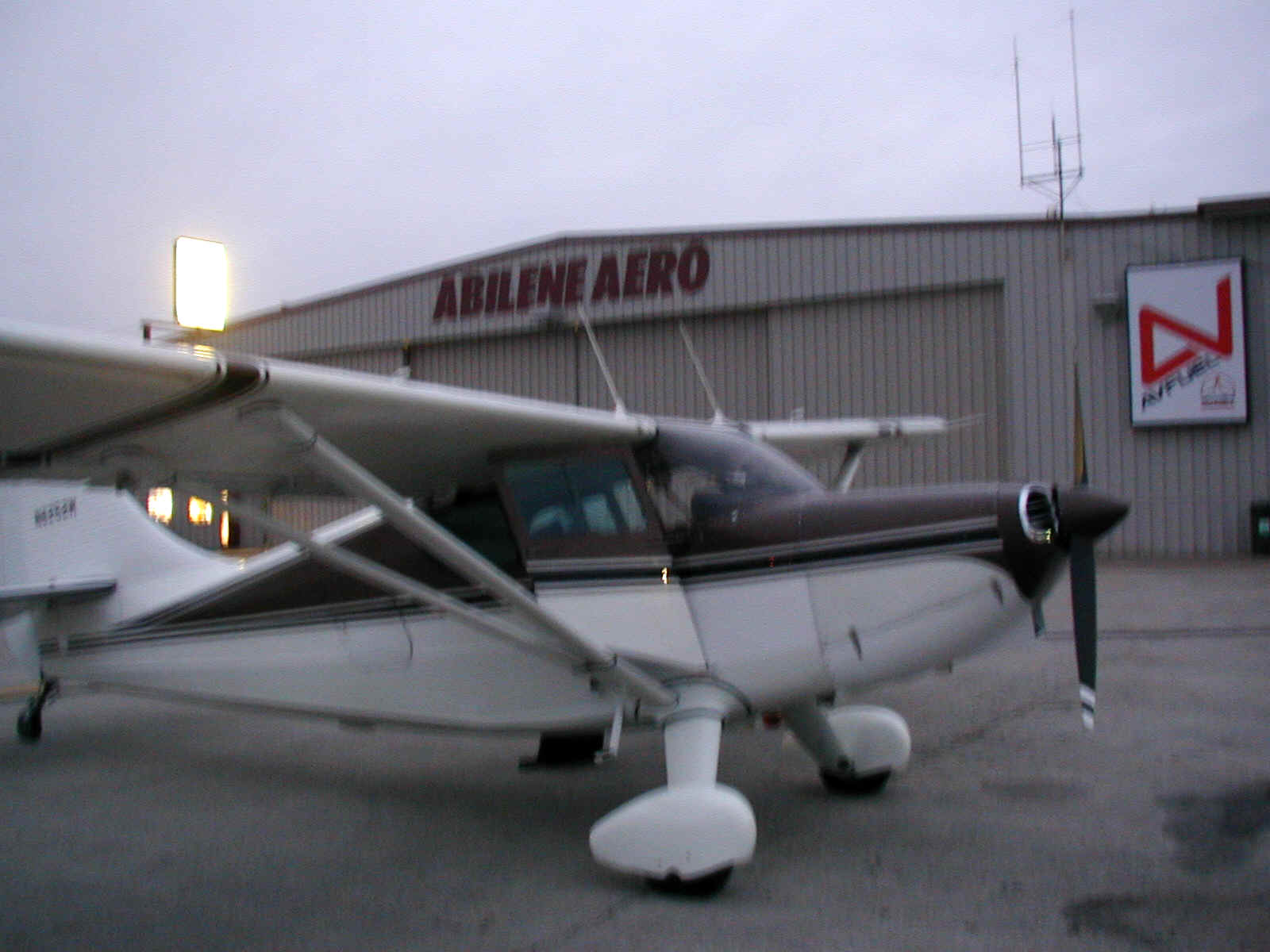 We are here overnight but we may be stuck here as the front we were trying to outrun finally caught us. It's forecast to have some snow tonight but we're still hopeful. The weather briefer told us tonight that if we had made another hundred miles we'd have been home free. Oh Well...
The scenery we flew through today was spectacular. We followed the valleys on a low altitude route and frequently flying over desert rock mesas and down valleys with mountains on both sides. Winds were favorable as we also hit over 180mph groundspeed! The more I fly it the happier I am with this fine aircraft. Climb rates with the big Lycoming are impressive as it only took minutes to get up to 9500msl. Boy what a change from the coupe!! We also crossed the West Texas oilfields and I never realized the sheer size of these areas. Anyway the adventure continues with another installment tomorrow. Blue skies!!!!
---
Day 3 - Well, the sun has ris and the sun has set and here we is in Texas yet!
A frustrating day to say the least. We're only 50 miles from clear air to the north and sitting here under low overcast with snow and other precip. Hoped to get out on a special VFR later this afternoon to get away from this but when confronted with the option of sitting or scud running we decided to sit. Discretion is the better part of valor! The high point that makes this tolerable is the fine people here who have been taking care of us.
The FBO put "mikey" in a hangar and called around trying to find us a room. (There's a rodeo in town and everything is booked.) Their first choice was a small hotel run by Larry Whitten of the Whitten Inn. He didn't have any room but he found us a spot at the Comfort Inn, came over to the airport, picked us up and drove us over. He even came over to pick us up in the morning to get us back to the airport even though we weren't guests of his hotel. When we had to stay again tonight he came over again but this time he had room for us and of course we happily went to his place. He called ahead to the hotel to find someplace for us to eat as most restaurants were closed today and offered us a car and whatever else we needed. He even drove us around to our rooms so we wouldn't have to carry our luggage. I only wish I could give him more business, he is the definition of customer service!!
Hoping to get out in the AM as we still have approx 1000 miles to go and it'll be a day and a half at least. The cold weather gear is out, and we probably should have done it sooner as both Steve and I are coming down with colds.
Oh well, we're comforted by the fact we're flying a truly magnificent old airplane. Even in the hangar today we had a couple of old AG pilots come in to talk about the plane and a line worker came up as well. I'm confident "mikey" will be the center of attention wherever he goes. Bye for now and clear skies..... (we hope!)
---
Day 4 opened in Abilene with 4600 foot ceilings and 10 mile visibility. We took off with big hopes for a day in which we might make it home. Shortly after takeoff we realized that it wouldn't happen for a couple of reasons. First, we had 20 knots on the nose and second, as we went further north the ceilings and visibility kept deteriorating. About 50 miles north of Abilene, we turned around as it was not safe to continue. We landed at Breckinridge, Texas, home of Howard Pardue of warbird fame.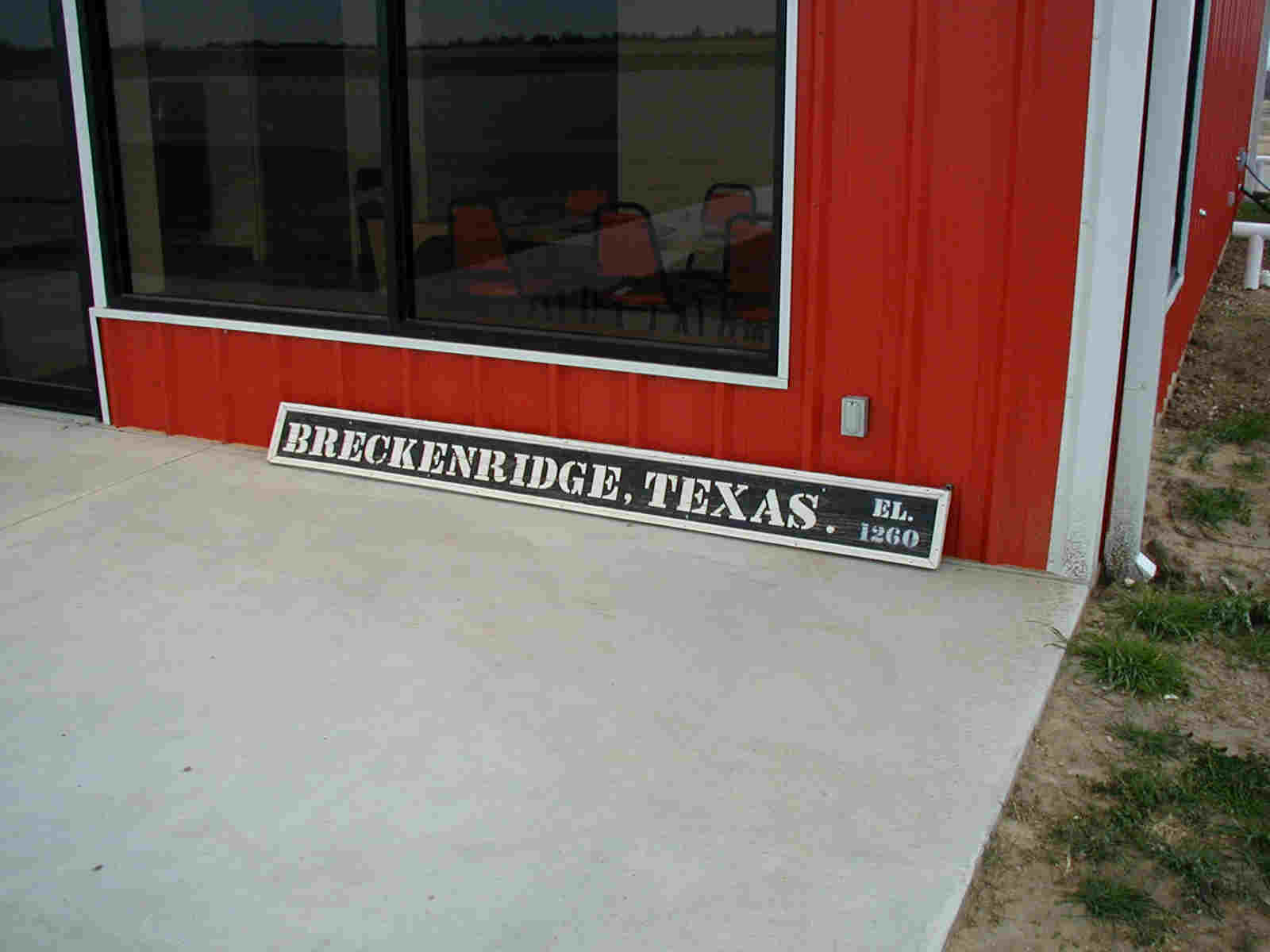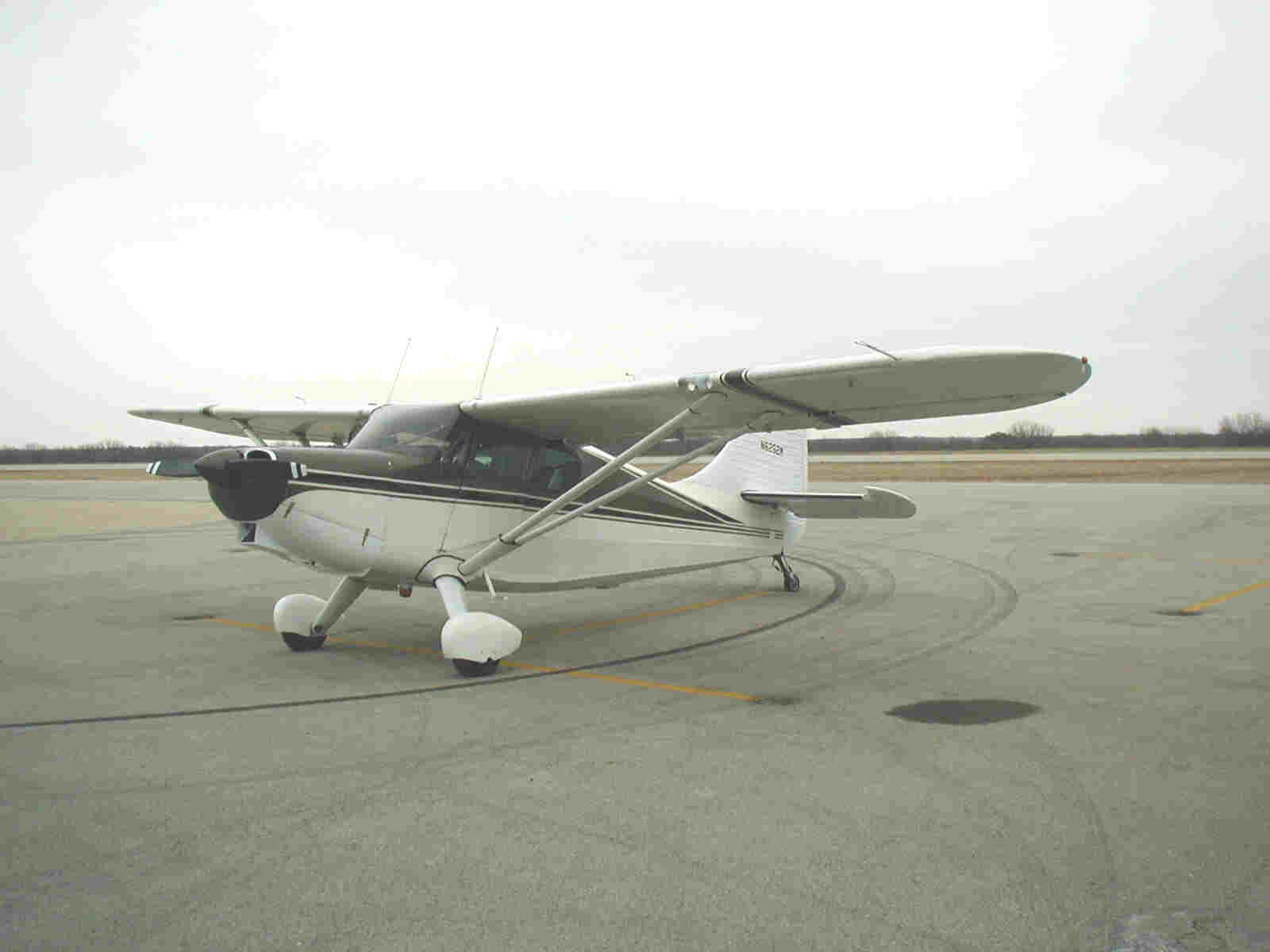 You my remember it was Howard's Bearcat that was hit on the runway by the Corsair at Oshkosh . We went into a hangar and found ourselves in warbird restoration heaven. In there was Howard's Bearcat being repaired (they had to make a new right wing), Corsair, a Mustang, a Hawker Hurricane and a highly modified Pinto Jet. We had a chance to talk with the guys there and you should have seen the metal working tools they had (remember they built a new wing for the Bearcat!).
Anyway, we waited an hour and then took off to try hopping from airport to airport as clean air was only 50 miles north! The Texas curse struck again. By the time we got to Graham, TX the ceilings had dropped again and we spent another 3 hours waiting out weather. We had to pull "mikey" into a hangar when the snow and sleet fell. He was covered with ice and it was sticking to everything. The FBO used old police cars as courtesy vehicles so we had fun on the way to the DQ for lunch.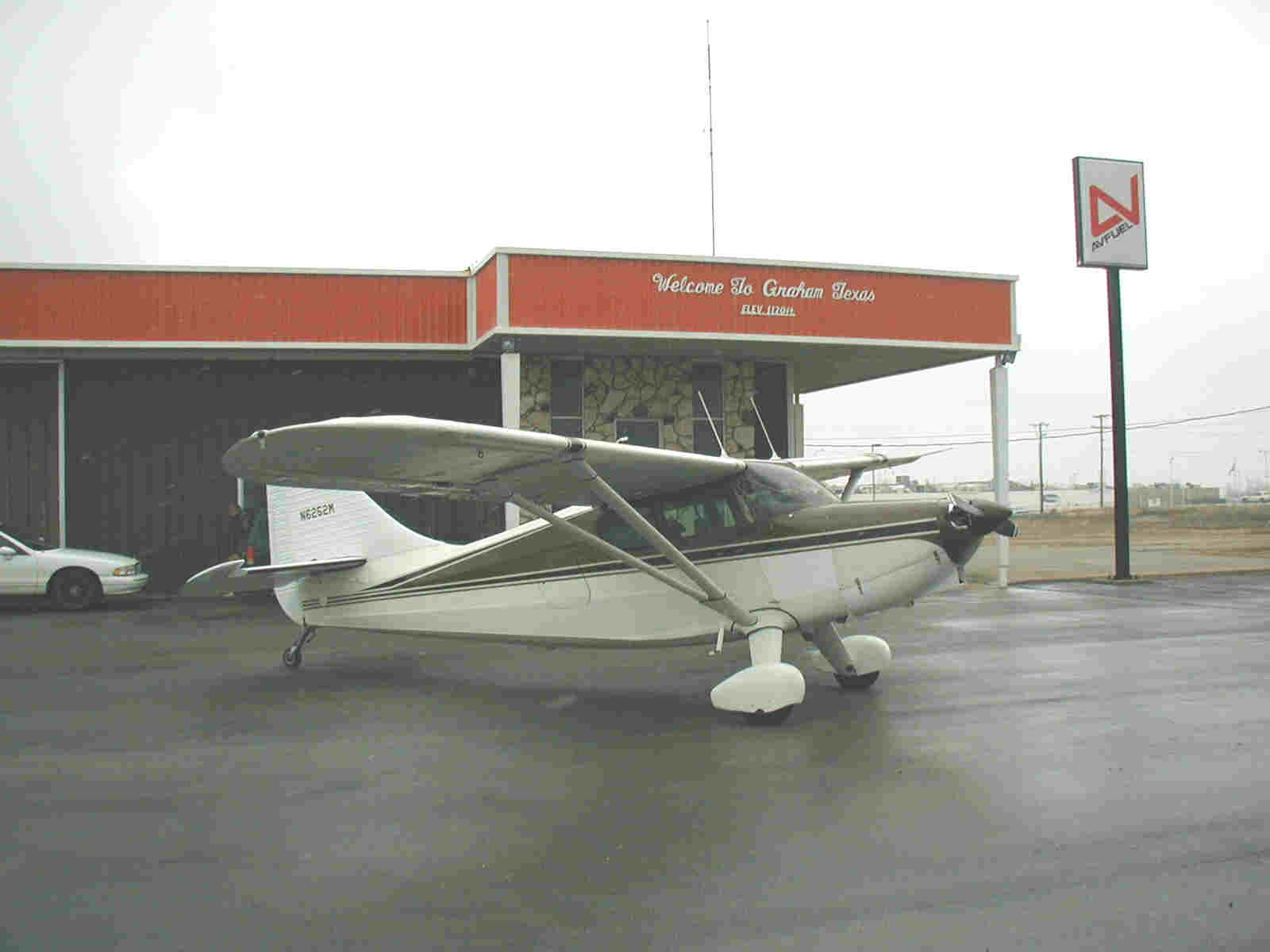 When the weather finally broke we took off and headed out of Texas. Headwinds continued to slow our progress but I'm still having problems looking at airspeeds on the dial in the yellow arc at cruise. This plane really performs! We made it to Joplin, MO before giving up for today. The main reason was darkness but the cold temps at altitude are hard on us as the cabin heater vents behind the front seats and the back is filled with spare parts and our luggage. At least the spare wheelpants are warm! So much for today but we're going to hit it hard tomorrow and should be home by afternoon. Talk at ya then !!!
---
Day 5 started out like no other.... Clear skies and light winds. OK so it was only 7 degrees, at least we still could fly. We headed out towards Jacksonville, IL as our first stop and were still chuckling about climbing out at 120mph with a climb rate of over 800 fpm. There is definitely no substitute for horsepower!! Anyway the trip was uneventful and we got into Jacksonville and topped off for the last leg. We again had the lookers and comments on the plane and talked to a couple of Illinois State Troopers. The Illinois State Police have a new 182 and they were out getting some dual and working on emergency procedures. Our arrival interrupted an engine out practice approach!. Anyway after liftoff we got back to 07C and home around 3pm . Waiting for us was JoAnne, the co-owner of 6252M and a couple of friends that wanted to be there for us.
The adventure was still fun, even with all we went through. It took approximately 18 hours flying time and too many stops but we survived. I want to specially thank my friend Steve Whelan for his help, cooperation and enthusiasm in getting "mikey" back to Indiana.